It is not just wishful thinking any more.
"Coming Soon" is an official listing status in the tightly regulated world of selling homes.  It is right up there with Active, Pending, and Closed; and their less common cousins, Expired and Withdrawn.
Coming Soon listings can exist as such for up to seven days.  They can appear that way in the professional Multiple Listing Service (MLS) used by real estate brokers.
After a week, Coming Soon listings in the MLS will automatically go Active.
The seven-day maximum affects all forms of marketing: yard signs, social media, direct mail, and even emailed newsletters and blog posts like this one.
You won't see many Coming Soon listings on public sites like Zillow, Trulia, Redfin, or Realtor.com. But you will find some:  https://www.zillow.com/denver-co/coming-soon/
That's because it takes a proactive move on the listing agent's part to place a Coming Soon listing on those sites.  (Once a listing goes Active, it feeds automatically into the public sites.)
How We Got Here
The rules on Coming Soon began in 2019, after what some consider the bad old days. Brokers would put out COMING SOON signs months ahead of actually listing.  Ostensibly it was a way to alert the neighbors about a nice buying opportunity, while the seller finished de-cluttering or painting the garage.
Believe it or not, some brokers took advantage.  The decluttering went on for weeks while the listing agent prayed for the arrival of an unrepresented buyer. With that might come a chance to "double end" the deal and serve both sides as a transaction broker.
The Colorado Real Estate Commission cracked down and installed the seven-day limit.  (It was extended to 14 days for a while in 2020, during Covid.)
So here's the first question: WHY should an agent advertise a Coming Soon listing at all?
Here's the argument against it:  It makes for limited exposure.  Relatively few buyers will spot the opportunity, whether by driving by the house or hearing about it from a buyer's agent.  When a property lists, it should make a splash.
A Coming Soon listing is like a tree falling in the woods.  Without Active status, does it even exist?
To me, that argument carries little weight.  Yes it's a limited audience.   But in the best case—a serious offer comes through the door—the seller has no obligation to accept it.   My advice might be, let's wait until next week and see what happens.
To me it seems odd that most agents do no Coming Soon marketing at all.  I believe the status has a powerful pull on serious buyers (as well as a lot of tire kickers).  People love a first look at listings; an inside track.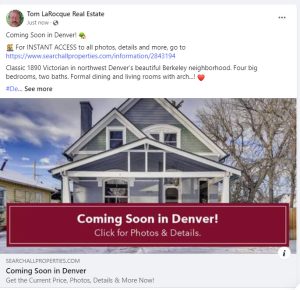 A Coming Soon Facebook ad from 2021, no longer live.
Lead Magnets
Here's how I handle Coming Soon listings.  (Me and many agents across the country who have learned to harness social media this way.)  I use an app called Listings to Leads.  It is a monthly software subscription costing $40 per month.  Many similar services are out there.
When my listing is around the corner, I first make sure it is complete in the MLS, with all the requisite photos and public remarks.
Then I pull that listing into my L2L software.  Which packages up the content into a nice looking post and pushes it out through my Facebook, Twitter, and LinkedIn feeds.
More powerful than straight posts are paid ads on Facebook, Instagram, and elsewhere.  The software simplifies that process. Choose a target geography and an ad budget. Suddenly my ads are popping up in peoples' right-side columns and Reels on the gram.
Posts and ads use the same bait.  Click Here for More Info.  People get the details and I get their contact details.  And we hope, a crowd at my client's first Open House.
Users have complained about this practice, saying it is deceptive.  They didn't mean to surrender their contact info.  All I can say is, welcome to digital marketing.  Mind your settings. Many people protect themselves with fake names and numbers.
L2L can create an ad for each of five stages of selling: Coming Soon, Just Listed, Open House, Pending, and Sold.  The first three are very powerful buyer lead magnets.
I am a licensed broker and an active real estate investor; and the co-owner, with a partner, of a 4BR single-family home in Arvada.  It was dilapidated when we bought it seven months ago.
We have replaced the roof, windows, floors, doors, kitchen cabinets, countertops, appliances, bathroom fixtures, ceramic tile, carpet, plumbing, furnace, and electric panel. The house is freshly painted with all new concrete outside and new, low-water xeriscaping. It is nearly move-in ready.
So what's the status of that property?  I can tell you it's coming along well and coming into its own. But there are certain phrases I can't use, in this public marketing forum.  Check back in a couple of weeks.