I was walking the dog at sunset on a Tuesday. I entered South Table Mountain Park, near my home, from the park's northeast corner.
From the opposite corner, near the baseball diamond, I could hear an occasional metallic crashing sound, followed by uproarious laughter. It was too dark to see what was going on.
Spirit and I made our way in that direction to investigate. Clearly it was not a baseball practice. (Teams do still work out there even in October.)
Two men were standing on the infield holding 8-foot rods, like spears, pointed at the sky. At least one held a large disc, or shield, like a garbage can lid.
They consulted, then hopped on their electric mini-bikes and rode away. They circled around and headed back, driving straight toward each other.
At a closing speed of maybe 15 mph, they lowered their spears. One flailed a bit while the other confidently levelled his weapon parallel to the ground and…
CLANK! To my amazement, the more vulnerable man took a direct hit to the trash can lid protecting is chest. He was nearly knocked over, but he regained control of his mini-bike and both men howled in delight.
Yes, they were men—bearded, flannel shirted, early twenties. One wore a vested medieval sort of jousting costume down to his knees, like something out of King Arthur.
Yes, they were jousting; a modern version of it. They circled away and the bizarre scene played out again. I asked if I could shoot some video.
@realestaterocqy

Just outside of Golden CO is a secret rural community called Pleasant View.
"Yeah whatever," said one guy, oblivious to my interest. The other was nursing a thumb injury and considering whether to "add some padding." I'm thinking, well yeah…
I didn't get the video. The dog was agitated and pulling me away.
Sometimes you run into these people, right? I mean, folks who just flat don't give a rip. They're out doing their thing with zero concern about what you or the morality police think about it.
Sometimes they're thugs on a grand scale. Think Vladimir Putin or Steve Bannon.
Sometimes it's your neighbor with a yard full of junk cars. Or the guy driving around with six dogs in the back of a pickup. Sometimes it's just two random dudes in the park.
You walk away shaking your head, wondering how anyone could be so stupid. But admit it. Mixed with the revulsion, sometimes, there is admiration.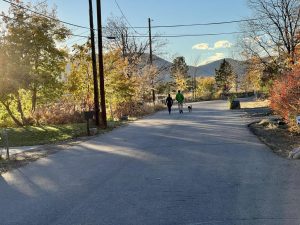 Who needs sidewalks?
Welcome to Pleasant View, my neighborhood since 2016. It's in unincorporated Jefferson County, adjacent to Golden which is best known for Coors Beer and the Colorado School of Mines.
Downtown Golden has grown very cosmopolitan, with brew pubs and shops like Fleur de Lis Flowers. Increasingly it looks like Boulder's 16th Street Mall.
Long-time locals have circulated a bumper sticker that says, "Don't Boulder My Golden."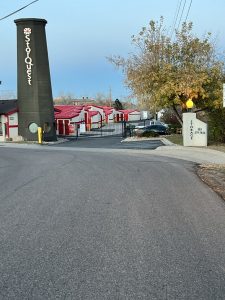 Self-storage
Pleasant View is the unreformed, unapologetic stepsister. Technically just a water/sewer district, the neighborhood has no exact boundaries and no real downtown. There is a stretch of bars and car dealers lining South Golden Road as you drive south to I-70.
Along that road you'll notice a Colorado Department of Corrections facility, barricaded with barbed wire. It's a minimum security "last stop" for prisoners soon to be released to freedom. Some days you'll see them out in the open, painting or landscaping.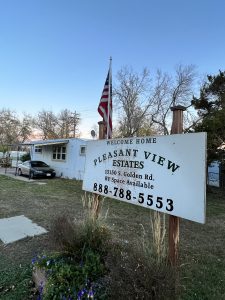 The local estates
There is a self-storage place and a mobile home park. (Pleasant View Estates.) Visitors driving in to my hood have perceived it as "an industrial area," which to an extent it is.
The Columbine Café, once an army barracks, hosts bluegrass jams, ski-wax events, and Friday fish fry nights. It is a true neighborhood hangout appearing consistently on Westword's annual list of Best Dive Bars.
There is an equine farm that boards horses. The riders go clip-clopping all around the area, leaving mounds of poop on the streets and park trails.
A nearby neighbor's extra lot is parked up with construction equipment: a backhoe, a skidsteer, three trailers, a white Ford panel truck, a 30-foot motorhome and a dead jeep. Most haven't moved in years.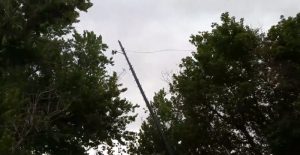 Big pole hits the dirt in 2015.
Another neighbor runs a hot rod shop out of his garage and test-drives the vehicles up and down Juniper Street. A former neighbor, now departed, kept a donkey in his yard.
When I built my house in 2015, we took down a 60-foot steel pole. It was part of a homemade wind turbine. A beer barrel at the top had been a hub for the wind blades. We toppled that pole like a giant redwood.
Amid it all is a libertarian "don't give a rip" attitude. People do what they want. Nobody else has much to say about it.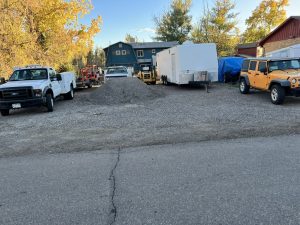 My neighbor.
This is not some remote holler in Kentucky. Pleasant View is just off US Highway 6, Colfax Avenue, and Interstate 70. My place is 18 minutes from Lower Downtown.
Standing out like a tuxedo at a dog fight is NREL, the National Renewable Energy Laboratory. Its modern campus employs some 2,900 researchers and support staff. Overlooking my daily dog walks is its massive parking garage which, a friend said, "looks like something out of DIA."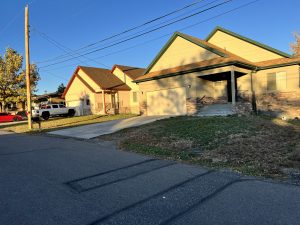 My place.
My immediate neighborhood has very little traffic, thanks to strategically fenced off roads. There is easy trail access to world class hiking and biking on South Table Mountain. Climb to the mesa and you can look down on Golden, metro Denver, and the rooftop of NREL. Watch out for rattlesnakes.
But the developers are coming. Proposed for a site on South Golden Road is a 14-acre development with 307 apartments, 46 townhomes, and commercial and retail space. Already rising across the street is a two-high rise project of luxury apartments and 9,000 square feet of commercial space.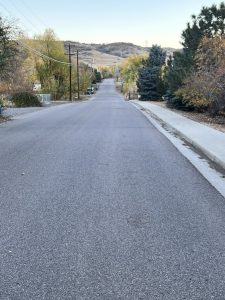 Traffic is light thanks to fenced off roads.
I love Pleasant View and I may never leave. I am not thrilled about the mega-development. But as a newcomer, how can I complain?
Just keep an eye out for my new bumper sticker. "Don't Golden my Pleasant View."
3 thoughts on "Won't You Be My Neighbor? I'm Guessing, No"