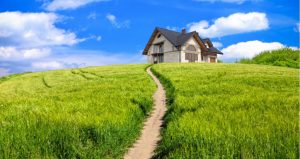 The following story is true.  The names have been changed to protect my clients' privacy.
My old friend Ronnie emailed me from the West Coast.  It was group message sent to many people.  He would be returning to Colorado, to reside, after more than 10 years away.
I responded, welcoming him back.  He wrote back, mentioning that he hoped to rent a 4BR home in west metro Denver – for himself and his son Ben, and Ben's wife and their two very young children.
I promised to put the word out among the 600-odd brokers who hang their shingle with my employing broker, Your Castle Real Estate.  ("Employing" broker is a regulatory designation.  We are mostly independent contractors.)
Ben was already in town, searching for a rental home.  The pickings were slim.  "They were all too expensive, too small, or in a bad location," he recalls.
It was early September.  One place looked great. It had been advertised on Zillow since August, promising availability in October.  Zillow lets users submit full rental applications, and it tells you how many have applied.  It was maybe a few dozen, Ben recalls.  His own inquiry was not answered.
My appeal to fellow Your Castle brokers was unanswered as well.
Ben's complaints are consistent with horror stories heard by realtors every day—about dumpy places advertised with old photos from better days; and about ever-increasing prices and non-responsive landlords.
So many people end up abandoning the rental route and opt to buy, or at least try, if they can afford it.  You can guess where this story is going.
A recent report said the average rent for a 4BR apartment in Denver has increased 17 percent in the past year.  The average is $2,932.  And again, that's for an apartment.  Surely, it's higher for a house.
This search shows 4BR single-family home rentals in west metro Denver. Their prices appear to average around $2,800 per month.  You can narrow the search to "Zillow only," or choose listings from all sources.  Interesting to see how much Zillow dominates the market.
The Shift
Rental prices were not pretty.  Ben and his family began to consider the home-purchase option. (That was after a gentle push, I admit, from their soon-to-be buyers' agent.)  How much higher could the monthly mortgage payments be, relative to renting a home?
It's impossible to know precisely, of course, without specifying a purchase price, down payment, interest rate, and monthly property tax cost and insurance premium.  But with a few assumptions, we can rough it out pretty closely.
Their price range was around $600,000.  Just barely above the August median of $581,000 for single-family homes in Denver.  The big decision was the down payment.  Ultimately they settled on $60,000.
Soon we were trundling through newly listed homes: In most cases it was me and the entire, young family of four.  (Grampa was still in California.)   Their hardiness was admirable.  It was at our 10th showing, in a campaign started three weeks earlier, that they fell in love.
The 2,400 square foot brick ranch had been listed in Lakewood for just one day.  It was custom-built 42 years ago (young for the neighborhood) and the original family still owned it.  Listed as a 3BR. It had two more basement rooms that could serve as bedrooms (though non-conforming, without egress windows).  The home was well suited for "multi-generational" use, with Ronnie occupying the basement and the rest of the family upstairs.
Like the Commercials
It is a real estate cliché straight out of a Re/Max commercial.  A family steps into their dream home and someone declares, "This is the one!"   It was like that. Ben's wife entered the manicured back yard and said, "This is it!"
I believe that's what I heard.  Or maybe I've seen too many commercials.
We scrambled and made an offer, packed with seller incentives:  A limited scope inspection.  An appraisal gap guarantee.   A post-closing occupancy agreement, allowing the seller to stay in the house for 30 days rent-free after closing. We bid $5,000 above list, with a further bonus of $5,000 if they accepted by 6 PM.
They did not.
"It was a reality check," recalls Ben, looking back.  Even their love letter didn't help.  Discouraged by some legal advisors, such a letter from buyer-to-seller outlines the reasons that they, not some other family, are the perfect fit to occupy the beautiful home.
We regrouped two days later and offered once again—this time $10,000 over list, and with one new incentive.  The seller need not clean up the place before closing.  It was the old, "Take what you want and leave the rest" provision.
It worked.  Or something worked.  Our offer was accepted.
At this writing we are under contract. Inspection is completed.  We need to negotiate an Inspection Resolution, and then get past the Appraisal, keeping fingers crossed that it will come in at the full contract price, so we don't have to dip into the $20,000 appraisal gap guarantee.
60K Down
Their contract price is $560,000.  The down payment is $60,000.  Based on recent interest rates and an estimate of the monthly insurance premium, the monthly mortgage payment figures to be around $2,566.  Significantly lower, I'd say, than the cost to rent similar homes.  The expected payment includes principle, interest, tax, and property insurance (PITI), plus $62 per month for mortgage insurance.
I know, not everyone has $60,000 for a down payment.  For those who don't (and who qualify), various down payment assistance programs are available.  And this is not to say buying is cheaper than renting, nor the opposite.  Just that is a closer call than you might think.
Personally, I will always come down on the side of home buying.  It is an investment, in your community and often in your family.  You can borrow most of the money, and it's a form of forced saving.  Mortgage interest is tax deductible. Denver home prices have "dipped," year over year, only three times in the last 50 years.
Shopping to buy rather than rent, says Ben, was a more gratifying experience overall.  "There we a lot more homes to choose from, even though they go away just as quickly."
"It got us into some new areas."  While the rentals were concentrated in certain suburbs, shopping to buy greatly expanded the realm of realistic prospects.
Most notably, the home purchase scenario was populated by a higher caliber of players.  "You're dealing with realtors and bankers and inspectors.  Everyone is a professional."  That's in contrast to the Zillow advertisers and property managers and mom-and-pop landlords who still haven't called back.
Book of the Month:
Sorry, nothing this time. This edition is already too long.