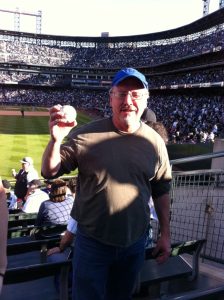 Baseball is back!  The Rox home opener is tomorrow, April 8, at 2:10 pm.  It is a cherished rite of spring.  I may actually get to the game, but not if not, I'll be drinking in the scene downtown at the Wynkoop.
I have attended many Opening Days.   In 1993 the team's inaugural year, I scrounged up a ticket for the team's third-ever game (not the first) at the old Mile High Stadium.  It was Easter Sunday.  My buds had colored some Easter eggs with the new team logo.  They tried to sell them as commemorative souvenirs, and then just ate them.
In 2010, I attended the season home opener at Coors Field. I was closing in on my first-ever real estate investment.  Under contract to purchase a brick bungalow in the Cole neighborhood of north Denver, I excitedly informed my mates about the impending deal.
I remember this: Most everyone was some sort of real estate expert. They were quick to tell me how it all worked, with expertise about flooring or kitchen remodeling or the housing market or potential profit margins.  One guy told me I'd lose my shirt.
But not one of 'em had any personal interest in investing.  The market had barely rebounded from its bottom in 2007.  Unlike me, my friends all had jobs.  I was writing regularly about real estate for the Denver Post.  But other than that I was unemployed, working hard to get started in real estate.
My investment purchase closed, with help from a short term loan from a relative. After some remodeling the property figured to work well as a rental, not just a flip.  So I found another partner with sufficient credit for long-term financing. We shared ownership 50/50.  Later I bought out my partner.
Hey Hey!
Real estate investors use baseball metaphors to rate their successes and struggles.  A completed flip project, for example, may be considered a home run or a single.  Occasionally we hit a grand slam, or we strike out.
I still own that first-time investment property, acquired in April 2010.  Its market value is now nearly six times wbat I paid for it.   I consider that deal a home run.  But not a grand slam because it has taken 12 years to play out.
Another good "at bat" was a development project started in 2015.  A partner and I built two new homes just outside of Golden.  They were intended as spec homes, to be sold upon completion.  But I liked the finished products and loved the neighborhood.  So I bought us out, refinancing the construction loans with 30-year mortgages.  I moved into one house and started leasing out the other on Airbnb.
Strike Three
I have struck out once or twice. In 2014, I bought a small frame house in the Baker neighborhood, planning to expand the property by popping the top.  But the Baker Historic District had other ideas.  A rehab would require compliance with various "retro" design standards such as installing 19th Century style windows.  The cost would be prohibitive.  I sold the home at a break-even price.
In 2018, with a partner, I bought a flip property: a nice 3,200 square foot rancher in Lakewood.  After listing it for sale, it languished on the market.  Feedback from prospective buyers was always the same.  The home lacked an open floor plan (which I've always considered a dumb design idea).
Finally we got a contract to sell.  I was the listing agent, but as a courtesy, I was hosting the buyer in a pre-closing walk-through.  Overnight there had been torrential rain.  We walked into a carpeted bedroom in the basement.  I can still feel the sensation of ice-cold water soaking through my socks.  A sump pump had failed.  The buyer terminated.  We replaced the carpet and sold the home six weeks later, after six months on the market, at a loss of a few thousand dollars.
Last month, with a 50/50 partner, I closed the $765,000 sale of a flip property in Castle Rock.  Our profit was $73,768.  It was not a home run, I'd say.  More like a good, solid off the wall double.  If you have a Google password, you can see a detailed Profit/Loss statement of that project here.
Howdy Partner
With the market soaring, unlike in 2010, it's now common for me to encounter people with an interest in real estate investing. Many don't know how to get started.  One good option is partner up with someone who has the needed experience. Someone like me, or thousands of others who are actively investing around Denver.
I welcome contact from newbies, even with little or no knowledge about real estate. That's what I was 12 years ago.  All the deals outlined above, except one, involved some sort of partnership.  You might participate as a lender, equity partner, credit guarantor, hands-on rehabber, or IT/ marketing manager.
In the 12 years since my first deal, one lesson stands out.  Real estate is a team sport.  Most investors rely on other investors in some fashion.  Partnerships are a powerful force.
Still, many people's interest is passing. If you're more comfortable in the stands than on the playing field, it's understandable—it's a tough business.  May we all enjoy the game in the Rock Pile tomorrow.
(Incidentally, I pulled some strings with the U.S. Air Force.  Watch for a fly-over of several military jets right around 2 pm.)