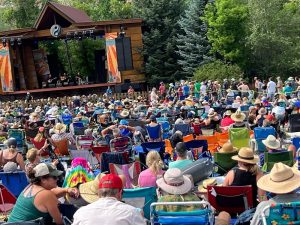 The economy may be in recession.  Interest rates are high and may be heading higher.  Real estate showings and sales have slowed, and Denver prices are off from their peak of a few months ago.
But unemployment is very low and just about everyone who wants a job, has one.  People are jumping jobs like hobos hop freight trains.  They're making more money than ever, even if their pay isn't keeping up with inflation.
So, a couple of my own economic thoughts:
It is party time. We are spending our rapidly shrinking dollars on all forms of entertainment, from restaurants to festivals and flights out of town.
The dip will not last. I say there is no way metro Denver will suffer a long-term economic downturn.
—
Last Saturday, July 30, I attended Rockygrass.  It was the 50th annual bluegrass festival of its kind, held at the Planet Bluegrass "ranch" in Lyons, halfway between Boulder and Estes Park.
Modern bluegrass is an art form practiced by some of the world's great musical virtuosos.  As the masters converged in Lyons—names like Del McCoury and Jens Kruger and Sam Bush —so did about 10,000 of their adoring fans.
For three days, the multiple-acre festival grounds was booked to capacity, not just with music lovers, but with staff, vendors, and volunteers.  The nearby camp sites were jammed with tents, cars, and campers, many arriving days ahead the festival.
Bluegrass draws not just admirers but practitioners—pickers—toting their own banjos, fiddles, guitars, and mandolins.  After lounging on the lawn to listen all day, they return to their camp sites to pick all night.
Preceding the fest is a four-day instruction camp called Rockygrass Academy.  Students mix with their heroes to study the intricacies of the art.  It's an incubator of talent, and it's been happening for at least 19 years.  That's when I remember first seeing it.
The whole scene is a giant reunion.  I saw two guys excitedly recognize each other and rush to embrace.  The bigger dude, maybe six-foot-five, skipped the hug and lifted the smaller man, maybe five-foot-six, and twirled him around like a baton.  It was amazing.
As a realtor, I often see life through a prism of potential home sales.  The Rockygrass crowd was overwhelmingly skewed toward folks with home-buying characteristics.  Young families with kids.  Creative, intelligent people with enough disposable income to drop hundreds or thousands of dollars on tickets and travel.  My one-day pass cost $125.
The future of Denver is evident in the demographics.  Rockygrass is multi-generational.  Its oldest attendees are in their eighties.  But all ages are represented, from Boomers to Zoomers. There are many young children, playing and busking for dollar bills along the walking paths.
It is not all locals.  It's a destination event where you see license plates from many states in the parking lot.  Rockygrass is among the top events bluegrass festivals anywhere.  For some, it is a first exposure to Colorado.  Some will come back to stay.
The dynamic was even more stark at a show I attended recently at Red Rocks.  The artist was Billy Strings, a guitarist with an acoustic quartet rooted in traditional bluegrass.  A cultural phenomenon, Billy Strings has created a generation fans and pickers.  He is 29.  The average age at the Red Rocks show was about the same.
Rockygrass coincided with other cultural events around the city.  The annual Underground Music Showcase unfolded over the same three days in the Baker neighborhood.  There was a tribute to rock band Queen, with a fake Freddie Mercury, at the Paramount Theater on Sunday evening.
—
Join the crowd at any of these events and you can see the future of Denver.  The collective life force—the power, economic and otherwise—of people out there living, not huddling in front of their TVs. It is awe-inspiring.
Colorado isn't the only place that has it going on.  Cities in Florida coasts have great cultural scenes.  And there is Austin, home of the annual South by Southwest festival.  These are places where people want to live, not leave.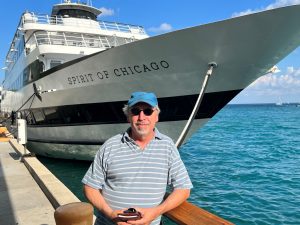 Yesterday, on August 6, my brother ("the Ayatollah") was wed to his long-time life partner in Chicago.  They chartered a ship for starlight cruise on Lake Michigan.  It was a wonderful party with a great band onboard.
But Chicago, my original home town, is a dying city.  Four siblings who live there constantly tell me so.  Crime is out of control.  Property taxes are ridiculous.  The best amenities, like lake front cruises, are accessible only to the wealthy. But even that's not enough to retain them.
Seems like about anyone can leave Chicago, eventually does.  Where are they going? Florida, Texas, and of course, Colorado.